quiz results

Which Rainbow Brite kid are you? By
Growing.

What Forbidden System Character Are You?

Which Hatsune Miku Nendoroid Model Are You?
Your rainbow is shaded
blue.
What is says about you: You are a tranquil person. You appreciate friends who get along with one another. You share hobbies with friends and like trying to fit into their routines.
Find the colors of your rainbow at spacefem.com.
you are darkslateblue
#483D8B

Your dominant hue is blue, making you a good friend who people love and trust. You're good in social situations and want to fit in. Just be careful not to compromise who you are to make them happy.

Your saturation level is medium - You're not the most decisive go-getter, but you can get a job done when it's required of you. You probably don't think the world can change for you and don't want to spend too much effort trying to force it.

Your outlook on life can be bright or dark, depending on the situation. You are flexible and see things objectively.

the spacefem.com html color quiz
The Dante's Inferno Test has banished you to the Fifth Level of Hell!
Here is how you matched up against all the levels:

Take the Dante's Divine Comedy Inferno Test
| | | |
| --- | --- | --- |
| Greed: | Medium | |
| Gluttony: | Medium | |
| Wrath: | High | |
| Sloth: | Very High | |
| Envy: | Low | |
| Lust: | Medium | |
| Pride: | Medium | |
Discover Your Sins - Click Here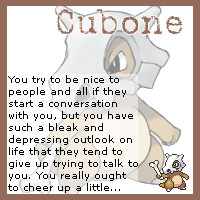 Big Five Test Results
Extroversion (30%) low which suggests you are very reclusive, quiet, unassertive, and private.
Accommodation (44%) moderately low which suggests you are, at times, overly selfish, uncooperative, and difficult at the expense of the well being of others.
Orderliness (34%) moderately low which suggests you are, at times, overly flexible, random, scattered, and fun seeking at the expense of structure, reliability, work ethic, and long term accomplishment.
Emotional Stability (22%) low which suggests you are very worrying, insecure, emotional, and anxious.
Inquisitiveness (48%) medium which suggests you are moderately intellectual, curious, and imaginative.

Take Free Big Five Personality Test
Personality Test
by
SimilarMinds.com
You are a Romantic Seme!
A true romantic, you're safest sticking with a partner who is gentle and can appreciate your mature, loving ways and protective nature. Most often found with a handful of roses and wine, you are committed to your partner and their happiness, which makes you a perfect match for the Innocent Uke, who you will dedicate yourself to and lavish with gifts and attention.
Most compatible with: Innocent Uke, Clueless Uke
Least compatible with: Badass Uke, Dramatic Uke
What seme or uke are you? Take the experience at SemeUke.com.